Laufer Trucking Careers
At times, we are looking for qualified drivers. Laufer Trucking respects the family lives of our drivers and offers ample home time along with other unique benefits. We are in special need of flatbed drivers, and have a newly designed flatbed training program for drivers that have a CDL and are interested in learning new skills that come with a higher level of pay.
Check Out Our Driver Andy's Video!
We employ drivers who take pride in themselves and the work they do. We are seeking drivers who care about safety and customer service, and realize that as representatives of the company they are responsible for our success; in turn our success will be their success.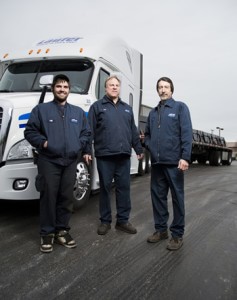 Benefits include:
Ample home time (avg 2-3 nights out per week)
minimal weekend work, Sunday leave bonus
Affordable pre-tax health, dental, vision insurance
11 paid holidays per year
Paid vacation starting at 6 months
401k with Company Match
Quarterly bonus paying up to $0.03/mile
weekly pay with option for direct deposit
Company provided work shirts
Late model equipment, full time on site maintenance, staffed wash bay
Assigned trucks, no jump seating
PLEASE SEE WHAT SOME OF OUR EMPLOYEES HAVE TO SAY ABOUT US:
"From day one I realized this was a company that cares about its employees. Being a somewhat small family owned company, that sense of family comes through. With competitive wages and a great benefit package, plus the home time, Laufer Trucking is a great company to enhance your career."

– Jim Koepsell – Long term driver recently moved to dispatch office.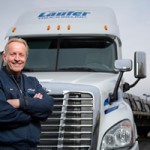 "Laufer has given me the opportunity to pursue my driving career. From the "Drive Along" period with Rich (driver trainer) and the encouragement and challenges of a great dispatch team, I am able to develop my confidence. I thank Laufer management for giving me the opportunity to join the Laufer team."

– Joan Bowen – Graduate of WCTC Professional CDL Program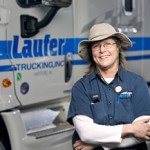 "What I like most about Laufer is the excellent healthcare plan for me and my family".

– Eric Johnson – Dedicated Flatbed Driver Trainer