Join Our Team!!
We employ drivers who take pride in themselves and the work they do. We are seeking drivers who care about safety and customer service, and realize that as representatives of the company they are responsible for our success. In turn, our success will be their success.
DRIVER HIGHLIGHTS
Ample home time, our drivers average 2-3 nights out per week
Competitive wages, our drivers have annual salaries ranging from $55,000-$80,000 * see below for specifics on our driving positions.
Well maintained, late model equipment. In house maintenance department and fully staffed wash bay
Assigned trucks, no slip seating
Generally off weekends, with occasional Sunday leaves (bonus paid for Sunday departures)
FULL BENEFIT PACKAGE
Industry leading 11 paid holidays per year
Affordable pre-tax health, dental and vision insurance
Paid Vacation at 6 months
401k with Company Match ($1600 per year)
Weekly Pay with Direct Deposit Option
Company provided work shirts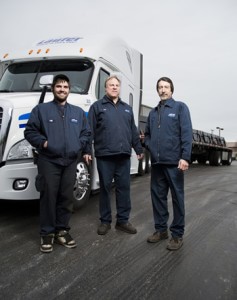 Regional Flatbed
Annual Salary $64,000 up to $80,000
Our flatbed drivers average $0.68/mile when factoring in their stop pay
Starting pay .46/mile for inexperienced/student drivers, up to .51/mile for seasoned drivers
All stops paid at $25 or $35 per stop, depending on trailer
Detention paid at $25/hour after two hours
$50 Sunday Leave Bonus (Occasional Sunday leaves)
Miles paid based on PC Miler Practical Miles
Late model well maintained flatbed equipment, numerous conestogas in our fleet
Main States Traveled – WI, IL, MN, IA, KS, MO, IN, OH, MI, KY, NY, NC, TN
Our flatbed drivers may, on occasion, do van work as well
Performance evaluations and possible merit-based increases
We offer a flatbed training program for current Class A CDL Holders!
We will train the right candidate to join our flatbed division. If you are in good physical condition and are not afraid of a little hard work, you can earn a higher salary being a flatbed driver! Check out Andy's video. Andy joined us after getting his CDL at Waukesha County Technical College and immediately began our flatbed program. He's been a valuable part of our team ever since.
We May Have Part-Time Regional Van Work Available, Depending on Individual Circumstances. Give us a call if you are interested!!
Driver Requirements
Class A CDL
Clean Driving Record
Live within 35 miles Hartford, WI
No Pet Policy
Pass functional capacity test and DOT pre-employment drug screen
Work with Laufer Trucking!